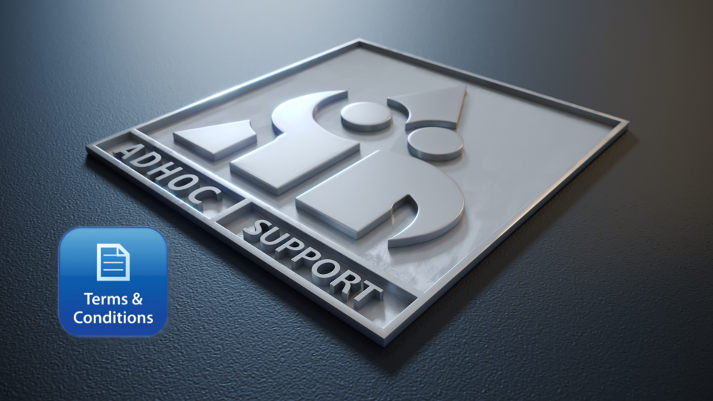 TERMS OF USE OF ADHOC.SUPPORT WEBSITE
These Terms of Use ("Terms") set out the terms and conditions for the use of this website and all related sites to our sites (collectively, "our Sites") and our relationship with users of the Sites.
Who we are and how to contact us
This site is operated by WebshopCompany Ltd ("we", "us", "our"), the coordinator of the ADHOC.SUPPORT advocacy community. WebshopCompany Ltd is a company registered in England and Wales with company number 08595221, whose registered office is at 1 Northumberland Avenue, Trafalgar Square, London, WC2N 5BW, United Kingdom.
About Adhoc.Support
Adhoc.Support is the world's first and only advocacy community.
By using our website you agree to these terms and conditions
We require all visitors to our Sites to comply with these Terms. By using our Sites, you acknowledge and confirm that you accept these Terms and that you agree to abide by them at all times when using our Sites.
If you do not agree to these Terms, please do not use our Sites.
There are other Terms which may apply to you: these Terms refer to the Privacy and Cookies Statement which applies to your use of our Sites.
How you can use content on our sites
We are the owner or licensee of all intellectual property rights in and to our Site and the content contained therein, including, but not limited to, text, graphics, audio, video, photographs, software, inventions, surveys, logos or other materials ("Materials"). The Materials are the intellectual property of or licensed to WebshopCompany Ltd by its licensors, business partners and affiliates, including all trademarks, service marks, copyrights, patents, database rights and trade secrets contained therein. These works are protected by copyright laws and treaties worldwide. All such rights are reserved.
As a user, you may, subject to acceptance of the terms and conditions, print a copy and download extracts from any page(s) of our website for your personal use and to draw the attention of others within your community to content posted on our website.
You may not modify hard or digital copies of any printed or downloaded materials in any way, nor may you use them as illustrations, photographs, video or audio recordings, or graphics separately from the accompanying text.
Our (and our identified contributors') status as authors of the content on our website must always be acknowledged and the right to use it must be granted in writing. Without this acknowledgement, content may not be copied or republished.
If you print, copy or download any part of our website in breach of these Terms, your right to use our website may cease immediately without our written permission and you must, at our option, either return or destroy any copies of the material you have made.
Information provided by our users
Do not provide us with any confidential or proprietary information through the public area of our website. Any information you provide, including, but not limited to, questions, comments, suggestions, and the like, should be posted without attribution as a public community communication and should not be considered confidential. Further, by accepting these Terms, you agree that you grant us an unrestricted, irrevocable license to use, reproduce, display, modify and distribute any such information you provide while using our Site. We will disclose information publicly only on the condition of personal anonymity, or with your prior written consent, in a specific place and after obtaining your written permission, including the location, the information to be disclosed and the manner in which it is to be displayed.
We expressly exclude all liability and accountability for content or other material uploaded to our site by any user or visitor. You are solely responsible for any material or information posted, submitted or otherwise made available by you on our site. In the event of any objection, please exercise your right to immediate redress or ask the community administrators to be at your service, in writing only, via your admin interface after logging into your account.
Visitor posts or other use of our site does not imply our endorsement of any material or information posted by third parties on our site.
For this reason, if any post, comment, infringes, may infringe, violate, minority, denomination, person, living or dead any rights, you are requested to share this in writing with us. Adhoc.Support is explicitly careful to minimize such and similar instances of offensive content.
Unauthorised use
Here's how you can stop using our sites: (i) in any manner that violates or causes us to violate any applicable local, national or international law or regulation; (ii) to transmit or submit any harmful, threatening, abusive, harassing, defamatory, libelous, abusive, deceptive, fraudulent, obscene, indecent, vulgar, profane, obscene, violent, hateful or otherwise objectionable content or material; (iii) sending or posting unsolicited advertising, promotional material or spam; (iv) stalking, harassing or bullying any user or visitor; or (v) for any other improper or immoral purpose.
We do not permit you to incorporate or permit anyone to incorporate content from our site into any commercial document or website or into any material sold or made available for profit without our prior written consent. The fact that we have your written consent will be explicitly indicated in our further sharing, which we will provide in our postings and promotional disclosures, in a written statement of use or refusal to use.
Furthermore, you must not:
modify, copy, reproduce, create derivative works from, republish, display, upload, post, transmit or in any way distribute any content, materials or information made available on our site.
reverse engineer, disassemble, decompile, decode, adapt, or otherwise attempt to derive or access all or any portion of any software component of our Sites
remove any proprietary notice from our site
use the Site in any way that could adversely affect or damage our Sites (including uploading any material that contains viruses or other malicious code) or that could damage or impair our Sites in any way
systematically scrape, crawl, harvest, query, or otherwise collect by electronic means any data or other content from our Sites in order to copy, create, obtain or compile, directly or indirectly, by single or multiple downloads, a composite compilation, database directory or the like.
Accuracy of content
The content on our site is for general information purposes only. While we use reasonable efforts to keep the information on our site up to date, we make no representation or warranty, express or implied, that the content on our site is accurate, complete or up to date and such information is provided "as is". In the interest of the benefit of the doubt and the timeliness of the information, we reserve the right to doubt.
We also do not promise or guarantee that our website or any of its content will provide specific results in a short period of time, or that the use of our website will provide a quick remedy to achieve your goals. Our website is constantly evolving as our growing database becomes a more effective community treatment of substantive complaints.  For this reason, we cannot be held responsible for any use or (mis)interpretation by you of the information or data contained in our websites, as the effectiveness of our system, which is built with evolution, depends on the growth in the number of users and the increase in the number of volume complaints submitted, even for the same product/service unit.
We are not responsible for the websites we link to
Where our website contains links to other websites and resources provided by third parties, these links are provided for the information of our users only. Such links should not be construed as an endorsement by us of the linked websites or the information contained therein.  We have no control over the content of the linked sites or resources and you, as the user, are responsible for your use of the linked sites or resources.
We may modify these Terms 
We may change these Terms from time to time without notice.  Please check the Terms to ensure that you understand the current terms and conditions applicable to your use of our website. Your continued use of our website following any modifications or changes to these Terms will mean that you accept such modifications or changes.
We may make changes to our websites
From time to time, we may update or modify our Sites or any part of our Sites to reflect changes in our products and/or services, the needs of our users and/or our business professionals.
We may suspend or withdraw our websites
Our sites will be made available free of charge to our members, through our service provider, upon payment of the Adhoc.Support advocacy community membership fee, on a fair use basis, in advance until 6 February 2023 as an Early Bird community building period. During this period, we will provide our system on reasonable terms of fair use to our community members.
For business and operational reasons, we may suspend or withdraw or limit the availability of all or any part of our sites without notice or liability of any kind after the Early Bird Community Building Period, which runs in advance until 6 February 2023. We will endeavour to give you reasonable notice of any such suspension or withdrawal and of any additional financial terms of future operation.
Our liability for any loss or damage you suffer
As a User, you have certain rights that cannot be limited by a contract such as these Terms.  We will not exclude or limit in any way our liability to you if it would be unlawful to do so. This includes liability for death or personal injury caused by our negligence or the negligence of our employees, agents or sub-contractors, or for fraud or fraudulent misrepresentation. In addition and without limitation, we disclaim all warranties, representations, conditions, or terms, express or implied, with regard to our website or any content on our website, including, but not limited to, warranties of accuracy, non-infringement, merchantability, and fitness for a particular purpose. We strive to create a good faith environment of quality by continually improving this website, building solutions, and growing our community in a meaningful way. These conditions limit our liability only to the extent permitted by applicable law. Except as set out in this section, we will not be liable for any loss or damage of any kind, whether in contract, tort (including negligence), strict liability, statutory breach of duty or otherwise, unless caused by a breach of these Terms. We will not be liable for: loss of profits, sales, business or revenue; business interruption; any indirect or consequential loss or damage.
Further, we exclude all liability for the acts, omissions and conduct of any third party in connection with or relating to the use of the Site and any of our products and services. Your sole remedy against WebshopCompany Ltd for dissatisfaction with our website or any content related to it is to discontinue using the website or any such content.
As a User, you agree to indemnify us and defend us against any claim against us arising from your failure to comply with these Terms.
How we may use your personal data
We will only use the personal information you provide to us in accordance with our Privacy and Cookies Statement, and only to the extent and in the manner set out in the membership agreement.
We are not responsible for viruses, and we do not guarantee that our website or information downloaded from our website will be secure or free from bugs or viruses of any kind, but we will use our best efforts to do so.
You are solely responsible for your own information technology, computer programs and platform settings necessary to access our site. You must have and use your own anti-virus software when you visit our site. In the event of a detected virus or malware, you must notify us, especially if we detect a security problem. You must not abuse our site by introducing viruses, Trojans, worms, logic bombs or other malicious or technologically harmful material.
You must not attempt to gain unauthorised access to our website, the server hosting our website, or any servers, computers or databases connected to our website. You may not attack our site through a denial of service attack or distributed denial of service attack. By breaching this provision, you are committing an offence under the Computer Misuse Act 1990 and the Hungarian Criminal Code in respect of computer equipment and data media and in respect of the designation of criminal offences and conduct. We will report all such breaches to the relevant law enforcement authorities and will cooperate with those authorities by disclosing the identity of the offender. In the event of such a violation, the perpetrator's right to use our website as a user will immediately terminate.
Rules for linking to our site
You may link to the Adhoc.Support advocacy community website, provided that you do so in a fair and legal manner and do not damage our reputation or take advantage of our reputation. You may only do so with written permission, stating the reason, method, time and place of use. Failure to do so will result in legal restrictions and sanctions by our copyright system.
You may not create a link that implies any form of association or endorsement on our part where none exists.
You may not create a link to our site from a website that you do not own or have prior written permission to use.
You may not frame our site on any other website and you may not create a link to any part of our site other than the home page.
We are not responsible for any content that is unauthorised, arbitrarily created and displayed on the websites of others. You may not link to our site to any website or material that is defamatory, obscene, criminal or that infringes the rights of any third party.
We reserve the right, at our sole discretion, to withdraw linking permission without prior notice, notwithstanding any linking permission already granted.
If you wish to link to content other than the above or use content on our site, please contact us at dataprotection@adhoc.support with your request.
Which country's laws apply to any disputes?
Please note that these Terms and Conditions, their subject matter and construction, shall be governed by English law in the jurisdiction where our owner is established. By accepting these Terms, we agree that the courts of England and Wales will have exclusive jurisdiction in the event of a dispute, except that if our user is a resident of Northern Ireland, he or she may bring proceedings in Northern Ireland and if he or she is a resident of Scotland, he or she may bring proceedings in Scotland.
These Terms, their subject matter and formation (and any non-contractual dispute or claim) shall be governed by English law. We both accept the exclusive jurisdiction of the courts of England and Wales. Where applicable local law prevents certain disputes from being settled in the courts of England and Wales, such disputes may be settled in the local court.
Protecting our trademarks and brand names
No person may use any trademarks owned by WebshopCompany Ltd. or by any of our group companies without our prior permission, except as part of the materials used as permitted under "PRESS-CENTER".
Other
If any part of these Terms is held invalid, illegal, void or unenforceable in the future, that part shall be deemed severable and shall not affect the validity and enforceability of any remaining provisions.
Last updated: 07 November 2022.