The Adhoc.Support advocacy community is built on a voluntary basis
Do you like our community? Would you like to support? Has our solution made your life better? Did we put a smile on your face? Don't hesitate: support our work by contributing to our success and enjoy the benefits of our global advocacy community. People like to do good, to be good and to be in a group of good people. It is a community. The power of community lies in coming together. Support is one of the ways of joining forces. Come and join us!
Adhoc.Support solves problems while seeking a peaceful solution
We believe that one's basic good intention towards others is positive. We treat data coming into our community as a set of human failings, not as conscious intentions to harm. Those who knowingly do harm are filtered through analysis and shared with our members on demand.
The Adhoc.Support advocacy community is built on a voluntary basis
Anyone can join our community who:
– accept the rules
– pay the fee necessary for the operation of the community against an invoice
– who builds, not destroys
– who chooses rational but effective collective power instead of anger
– who loves doing the right thing and who loves being part of a community that does good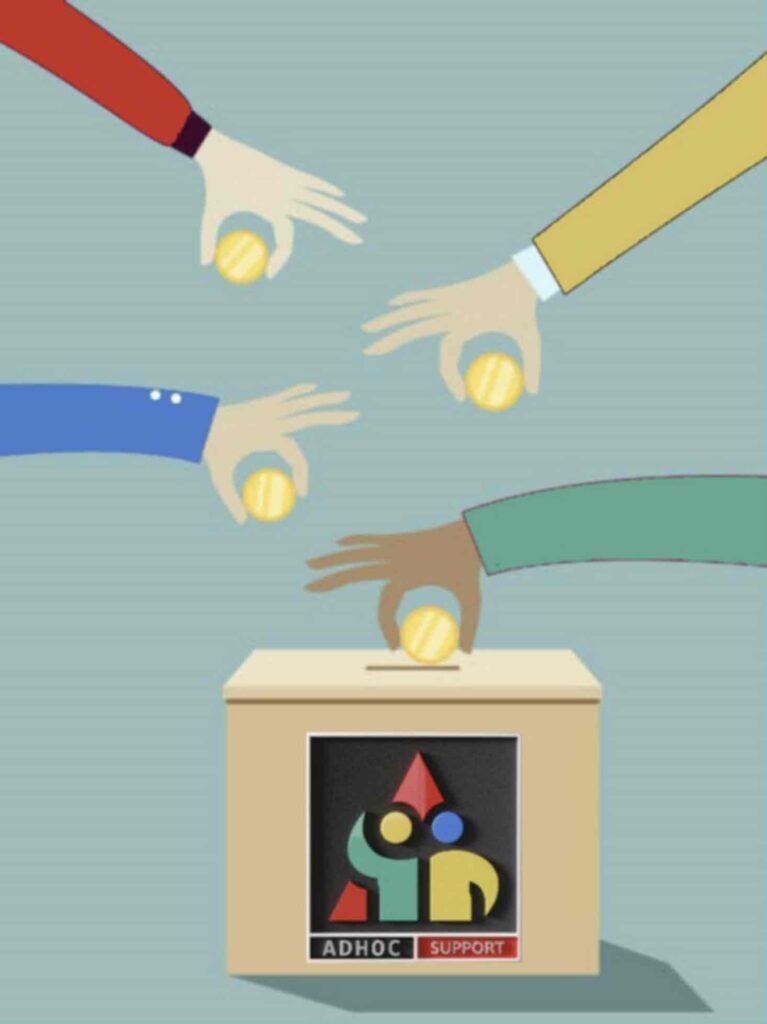 The power and merit of the Adhoc.Support advocacy community
– solving complaints and problems is not good, but by acting together we can solve them
– it is useful to draw strength from the knowledge of others, to find a solution together
– one complaint for several people = Collective power
– more complaints, by more people = Powerful force
– more complaints about the same product, in more countries = MASSIVE POWER
– quality defects identified in advance before purchase = Huge advantage
– anticipated advantages in the new product market = Premium brand advantage
– knowledge of use acquired in advance or in the process = Customer experience
– being the first to know about new product tests and experiences as a member of the community = Awesome
– working with others to find a peaceful solution to a dispute = Humble
– working together with others towards a common goal = Survival
– building community and helping others = Fantastic experience
Almost missed the most important thing: the power of our community is that when you start the complaint submission process, your complaint is not just processed as an individual complaint. Anyone who submits a complaint as a member of our community will be informed if their details match those of others and will be notified accordingly.
We use powerful computers to analyse the complaints, find out the similarities, the involvement of the company complained about, even the involvement of the product or manufacturer and tell you after the analysis: how your complaint is related to the others. Efficient detection, and fast community response. By analysing and monitoring everything, Adhoc.Support gets ahead of the solution. Peacefully, but effectively.
Join our community if you like any of the above!
One fee per month or per year? Decide and choose the solution that suits you best!
Our charges vary from country to country and are subject to different sales taxes under different tax rules. Membership can be obtained as an individual with the right to be a citizen of a given country and with the experience of our commercial analysis of the cases in that country. Information on national and international complaint cases involving a particular product, manufacturer or other common data is shared with all members of our affected communities, in local newsletters and languages.
Adhoc.Support is the first advocacy community in the world to be funded by both community funding and grants. The purpose of this website is to provide our prospective community members with a multi-faceted, worthwhile, highly useful, entertaining and impartial source of information, independent of economic and political interests, on what is happening in the consumer products market and the world through the potential and complaints of all the commercial complaints we collect and process all over the world.
Early Bird development contribution to the community from 7 November 2022 to 6 February 2023 is a one-off £8.
The Adhoc.Support advocacy community will launch its electronic complaint submission system for a period of 3 months, starting on 7 November 2022, and will start the Beta testing process for the next development phase.  During the first 3 months of testing data uploading, the aim is to achieve system growth.
Complain and tell others. Let there be more and more complaints and more and more common ground for solutions. The goal is that as we build the Adhoc.Support community and the number of complaints increase, more and more products or services will receive attention.
During the introductory period, from 7 November 2022 to 6 February 2023, the use of our community's electronic systems will be subject to fair use conditions, which will allow the submission of complaints by individuals for non-commercial purposes.  Business use will only be possible after the actual announcement of the test period.
And then there's a beautiful and wonderful vision: to improve the lives of others through the collective achievements of the community. That sometimes makes so much more difference to our lives. One sign of positive change is generous compassionate support. The whole development of Adhoc.Support has reached a level of SUPPORT that has enabled the community and the complaint-handling solution to be a viable range of advocacy products and services created by the community operator WebshopCompany Ltd.
Do you like our community?
Would you like to support it?
Has our solution made your life better?
Did we put a smile on your face?
Don't hesitate! Support our work by contributing to our success and enjoy the benefits of our global advocacy community.